Welcome to 2018!
It's seems such a short time since 1999 when the dreaded "end of the world" fears of computer crashes from the millennium change. It has been sixteen years and computers are still here and becoming even more prevalent. My work in the computer world ended on April 1, 2004, at least my PAID work. Here it is January, 2018 and I am returning to this web site for updates. It has been some time since I worked on this as Facebook became the choice of sites for my family. I have reached the age of 69 and thought I would just add a few items to the site just to prove that I can. I am still learning new skills in my old age with the help of on-line training and plenty of spare time. I am learning how to use Expression Web, Photoshop and a couple of video editing programs. This web site is a testament of how well I am learning. It was a lot easier when I worked with a great team of programmers and all I had to do was bring ideas and concepts to the table. So stay with me and see how I do. I also like to keep my Excel skills honed and occasionally brush up my Winword skills. I now spend time working on small projects for family and friends. I have helped put together photos into a video for special memories which is always fun and especially satisfying. I have converted some 35 millimeter slides for a friend that he took during the years 1966 through 1969 when he was serving in Vietnam. I have converted a few VHS tapes to DVD's. Life is good.
Welcome to our Web site!
Welcome to our new corner of the world. Lots of things are going on. Most of you are aware that Jacquie was diagnosed with breast cancer and had a mastectomy. She went through the chemotherapy and radiation phase of her treatment. Both of these phases were quite exhausting with good and bad days. We decided to maintain a calendar of that time in her life and share it with anyone who may have friends, family or even themselves who may be facing a similar situation. It is on Jacquie's Page in this site. Thanks to those who have called, written and included her in your prayers. She is now well beyond the intense treatment phase and is taking her prescribed medicine for ten years. She has been weakened by this experience physically yet strengthened by winning this battle. She is doing quite well and is enjoying her work and life with our ever maturing family.
Our oldest grandchild is about to graduate as a cosmetologist. The next two oldest grandchildren are sophomore and freshmen at ECU. The next three are seniors in high school and looking at colleges to attend. The next oldest is in a STEM school as a freshman. The last one is couple of years from high school and busy with various pageants. Our youngest son has settled into a new job and is advancing his career at Briggs Equipment, Inc, based in Atlanta, GA. His company sells/leases Hyster and Yale lift trucks along with other things involved with warehousing and movement of goods stored.. He is also working to maintain his health and physical well being though cross fit training at a gym in Decatur, GA. Brian, our oldest also works at Hyster-Yale Group, Inc as foreman of the testing lab for the engineering department. Jon is managing the Tri-County Cotton Gin in Duplin County. His family is enjoying the rural life and outdoors environment they love so much. Jamie, our daughter is a RN in the emergency department with Nash General Hospital in Rocky Mount, NC.
Farm Life Stables
Jamie's in-laws Rhea and Sue Butler purchased the land near the Griffins Township Fire Department near the end of 2013 that has pasture land , a horse stable and a covered riding facility along with a house that will become home to Jamie, Garland and the their three girls. The house is being remodeled and the barn is filling with horses. The two families have put quite a lot of work in the facility and it is really looking good. More importantly, the "ranch' as I have dubbed it is becoming a cozy. laid back gathering place for down to earth homespun horse lovers of all ages particularly the very young. I try to go to the ranch every Sunday afternoon to watch and enjoy the love and affection exhibited by parents of children that can barely reach the underside of the horse they are leading from the barn to the exercise pen they are heading to for their riding lesson.

Rhea and Sue Butler have made dreams come true for many people with their investment in this facility. They have given my daughter and her three girls an opportunity that few people get in life. There are several little girls whose weekends have become exciting learning experiences that they look forward to almost like Christmas. Then there are those children who come to have pictures taken at the horse farm. Add to this the work ethic my grandchildren are getting from the horse farm experience and the measure of value is beyond extreme. Character is being molded here. My hat is off to Rhea and Sue for their investment and hard work in helping to invigorate this facility and for their love of and for family. My hat is off to my daughter Jamie and son-in-law Garland for their efforts in growing this family oriented operation. And to Lynnsie, Brooke and Madi I wish to express my pride in their dedication and tenacity to help make this facility a haven of well being for those who seek time with horses. This facility will be a blessing to well meaning parents and individuals who love their children and want them to be a part of growing up with life on the farm. I wish the best for those who own, operate and enjoy this facility.
Tri-County Cotton Gin
Jon has been managing the Tri-County Cotton Gin in Duplin County for the last twelve years. Along with his wife Dana, they oversee all of the ginning process from working with growers tracking acres planted, modules picked, bales ginned, bales sold and paid for; handling seed storage and sales; repair and modification of gin machinery in the off season to maintaining relations with the gin neighbors and community. It is a full time job and one that Jon has handled extremely well. I was the original manager of this gin in 1995 when it was built by several farmers in the area and I persuaded Jon to come and help an old man with the need for youthful brawn and an eager mind. He has grown from that time to become a very professional and accomplished gin manager that I am very proud of. He and his family have settled into the community and have made a good life for themselves. They are not that far away from Jacquie and me but far enough to raise their children without the closeness of family to baby sit at a moments notice or have mom's presence when small emergencies arise with growing children. They have done well.
Brian Wins Ruritan Man of Year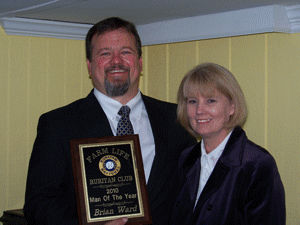 Brian has put a lot of time in family and community over the last 3 years. Prior to that he put a lot of time in family but was so busy chasing the business side of his life that community and church may have been left behind. He got settled into a great job at NACCO's NMHG Company (manufacturers of Hyster and Yale fork trucks) in Greenville, NC and is no longer running all over the country to make a living. He and his family are settled into their church and community are offering suppport and service where needed. Congratulations Brian.
Jacquie's Class Reunion - 45 years since graduation.
This event occurred in 2009 but it is so intriguing with respect to time period elapsed (40 years), I can't let it go. She and her classmates AND some of her teachers enjoyed a wonderful afternoon and evening. She and few of her classmates took photos of the happenings and a video camera was in the mix capturing motion (see how they move slower.) Neither the photos nor the video are professional but they truly capture a memorable event. I put their efforts into video format and accompanied it with music. I am a little older (Class of '67) than this class (69) but married one of them and know them all. I really enjoy the results of what these guys captured. DVDs were created and distributed to attendees as part of the fee for attendance. In addition, I created lesser quality video formats for streaming via the Web. These videos may be seen by clicking here. I hope you enjoy them.